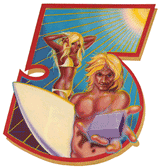 Honk's first released album was the soundtrack for the MacGillivray Freeman surf film classic, "Five Summer Stories" . However, this was not their first recorded album. They had recorded quite a bit of original material at a studio owned by their publisher, Criterion Music, before they made the music for the surf film. Most of this music has been lost under the house or in subsequent moves, but it was good music and bears mentioning. Many songs were written by their friend Mark Turnbull, who also wrote "Caught On A Greyhound" and "Buckeyed Jim". This work might be nowhere to be found, but it helped the band hone their recording and production skills.
The soundtrack for "Five Summer Stories" started with Steve Wood, Don Whaley, Tris Imboden and Richard Stekol. Neither Beth nor Craig were officially in the band to begin with, but began to vine in throughout that project. Greg MacGillivray and Jim Freeman would describe a scene in the movie to the guys, who would then compose something that reminded them of the description, or in a couple of cases, use a piece of music they'd already written. The music was cut into the film by a process known as "wild tracking" where the film was actually cut to the music. Sometimes the music would spring to life very fast, as in the case with Pipeline Sequence, but sometimes more work was necessary. For High In The Middle, which had a chorus but needed lyrics for the verses, the band (along with Beth) sat in a hotel room and passed around a piece of paper and each member wrote a line, folded the paper so that the line couldn't be seen but told the next person what the ending word was, and passed it to the next person. Shameful. The band had a lot of fun with that project and it still shows.
The second album, entitled "Honk", was recorded for 20th Century Records. By then, Craig and Beth had officially joined the band. The band finished the album but the fellows at the record company didn't like the whole second side, so it had to be scrapped. A new second side was written and recorded. Innovative, brilliant work was thrown away, never to be released. The band was pretty young and this interference with their "art" did not sit well, but the job got done. Cover art was created by a friend of the band, Bob Gardiner, who would eventually team up with Will Vinton to create a claymation movie, "Closed Mondays" which would win an Academy Award.
In the summer of '73 a third album was recorded, again for 20th Century Records. They thought that the band needed a little more direction so they hired recording engineer Steve Desper to record and co-produce. Desper had done stellar work on the Beach Boys albums of that time. This album included "Heat Wave", which had become a favorite in the band's live show. They also recorded a lot of jazz and folk flavored material and even cut a song live with a string quartet and clarinet. This stuff blew the record company right out og the water and the band was dropped from the label. BUT many cuts from that album were included on the 2004 Hip-oselect re-release of the second "Honk" album. During the recording, Honk lost Don Whaley and gained Will Brady on bass, becoming the band they are today.
Next, Honk was signed by Epic Records, and embarked upon their third released album which was entitled "Honk". That's right. Again, the record company was a bit leery about leaving these young musicians to their own devices, so found a co-producer to work with them, Henry Lewy. He'd done albums for Joni Mitchell and a lot of other greats and was very sympathetic to the artistic nature, basically let them do what they wanted, so that worked out well. Honk included jazz, folk, and an old blues number by Bessie Smith on that album. They still do many of those songs in their live shows today but that album is no longer available. Fortunately some of that material had been recorded previously for the 20th Century album which never got released and was included on the Hip-oselect CD.
Honk broke up in spring of 1975 but got together for reunions starting in 1983 and recorded a live reunion album for Restless Records in 1989, titled "Honk, Live at the Coach House". That CD had some new material on it as well as some old Honk songs and included the live favorite Heat Wave, but it is out of print and difficult to find.
We regret that no CD's are available for this music. You can stream music from 5 Summer Stories on Amazon and there's a link for that if you click the album cover. I'm working on it.